new: Gary Railways Company right-of-way maps from a large 1926 platbook covering Gary to Valparaiso.
newer: Valparaiso streetcar around lakes
some maps relevant to the Air Line
This page was specifically created as a prelude to the upcoming tour of parts of the old Air Line route. I mean to get better with my graphics program, make these maps easier to read, and add some more details, too. Let's see if I manage that over the next couple weeks. :)

The above was written three weeks ago. I slightly filled out the original maps here, scanned several more, found some more old newspaper Air Line mentions, bought more maps from the Porter County Surveyor, and scared up already-owned subdivision plats (featuring the Air Line or its remains) from along the spur down to Valpo. Those all will be up here by the time we take our next tour of part of the line. :)

Yes, our first little group tour of the eastern end of the Air Line's remains took place Saturday, 2 April, 2005. We all enjoyed it, none more than me. I even found a new (to me) place name: Wilkinson Station (or just Wilkinson Substation?) For more details of our day, visit the Air Line e-club. For my additional and clearer maps, wait until I post them and then revisit here. :)

These are portions of U. S. Geological Survey topographic maps. You can follow the old Air Line / streetcar routes for stretches, here and there, which clearly show up as fills or cuts, specifically at the eastern edge of the Portage map (just west of S.R. 149, just south of the Tollroad), just east of S.R. 49 on the Chesterton map (just south of the Tollroad, at unlabeled Goodrum), across much of the Westville map (between the Tollroad and U.S. 421), across the western & the eastern parts of the LaPorte West map (north of Pinhook and south of Door Village), and at the western edge of the LaPorte East map (at S.R. 39.)

from west to east: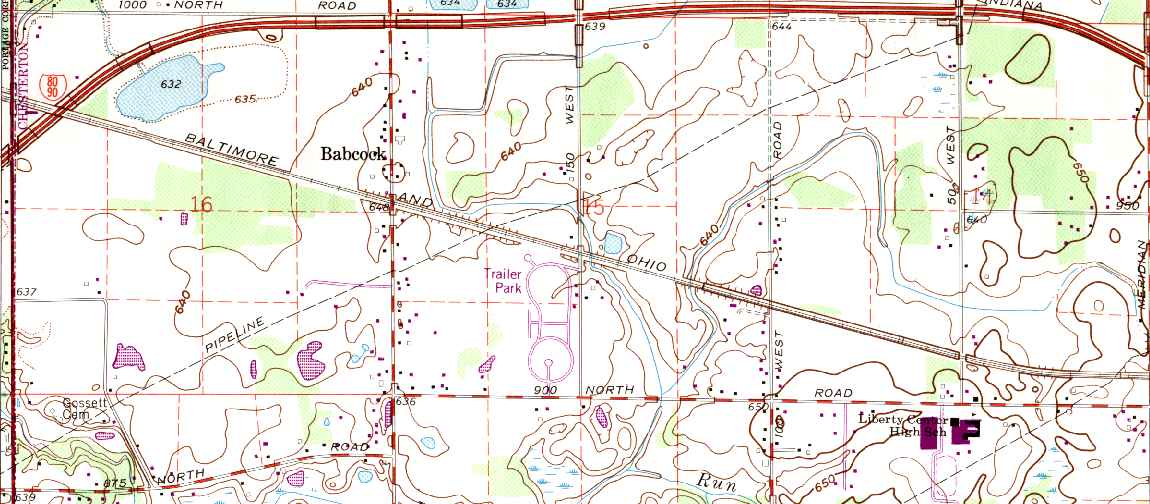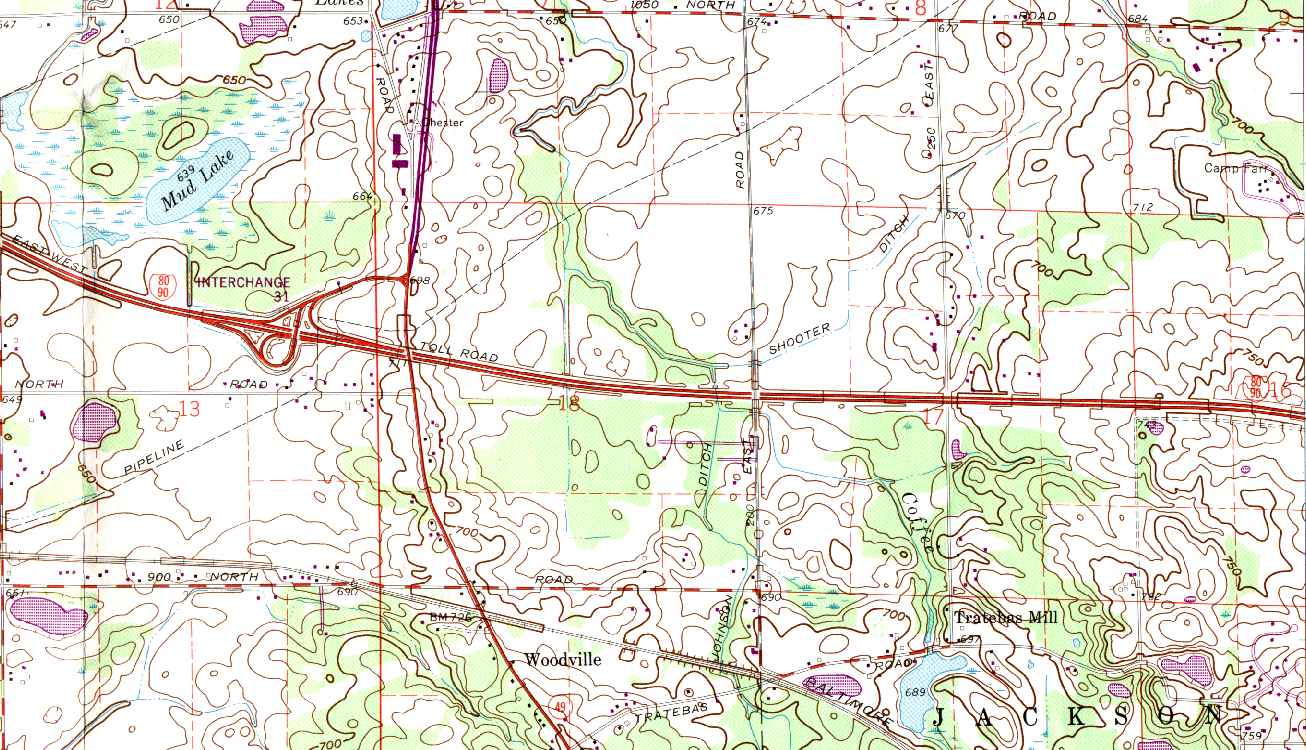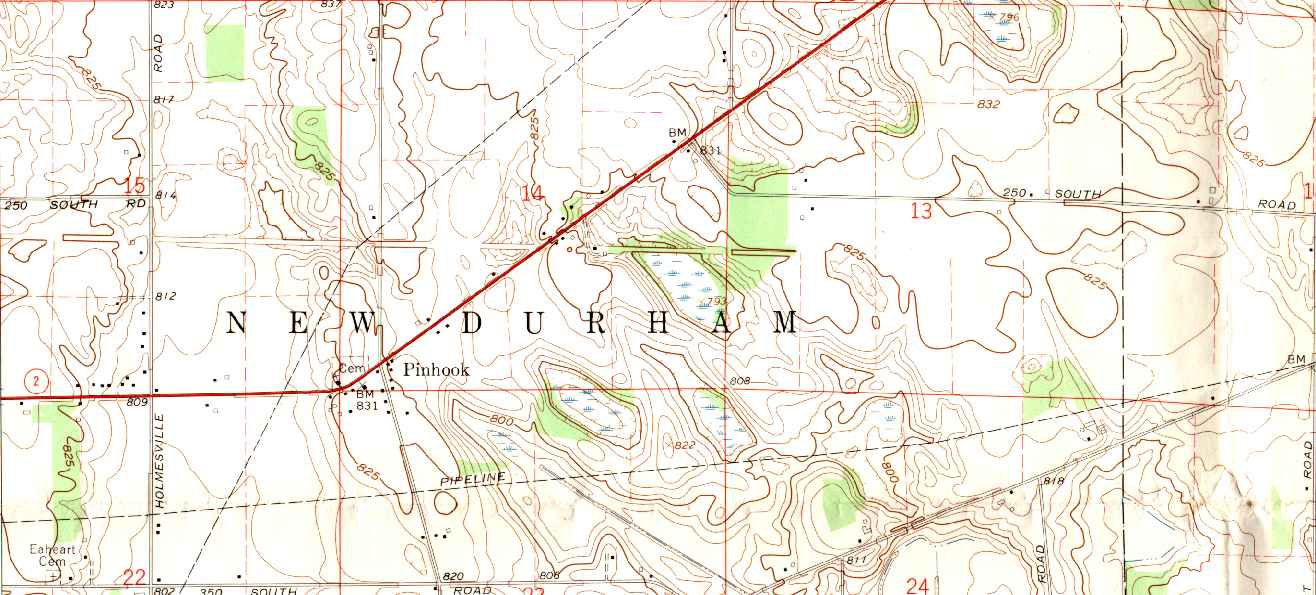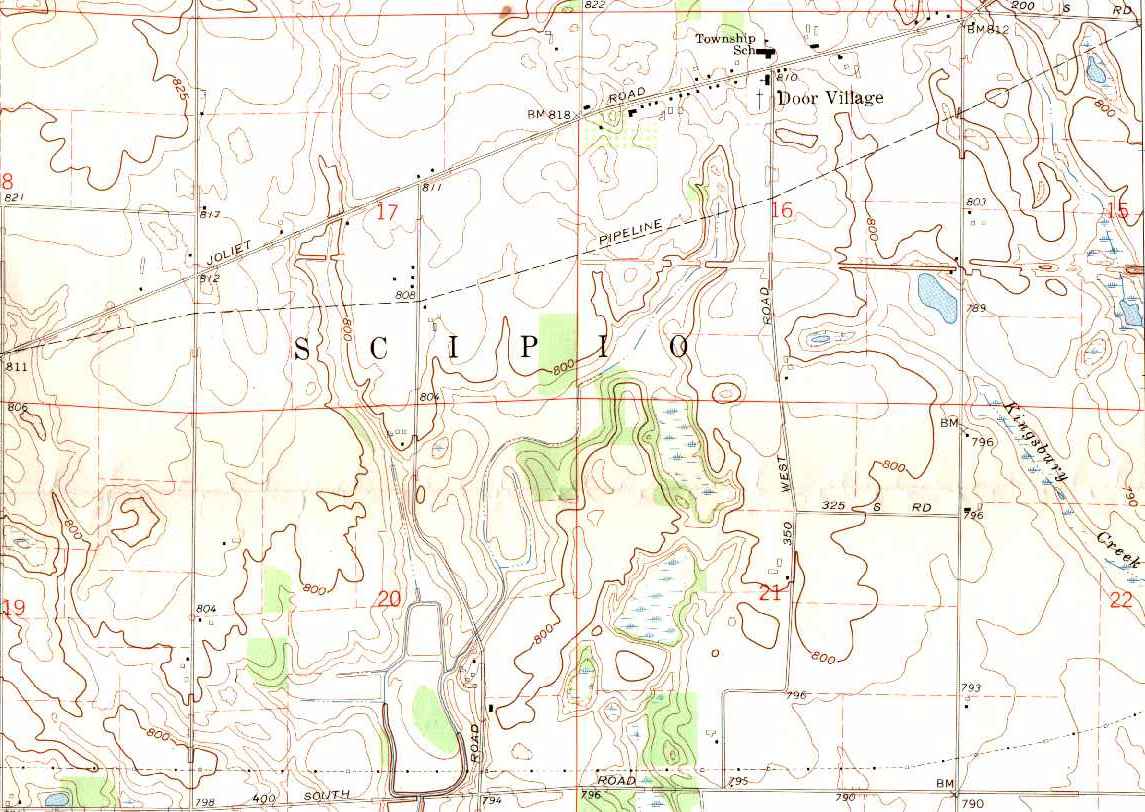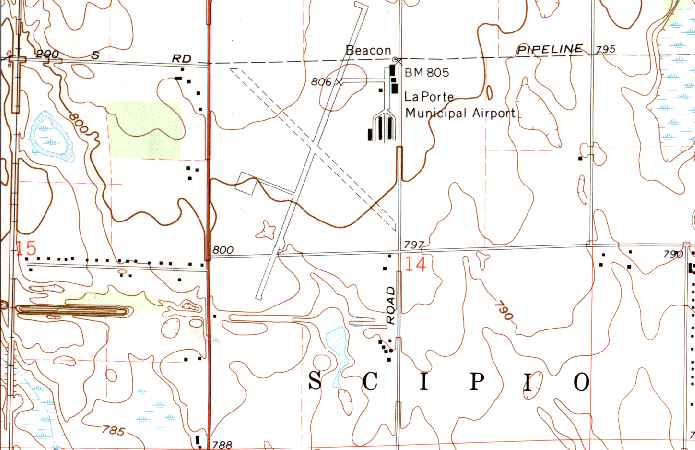 An older, differently scaled map of the middle portion. The original was in color but I only have a black & white microfilm print.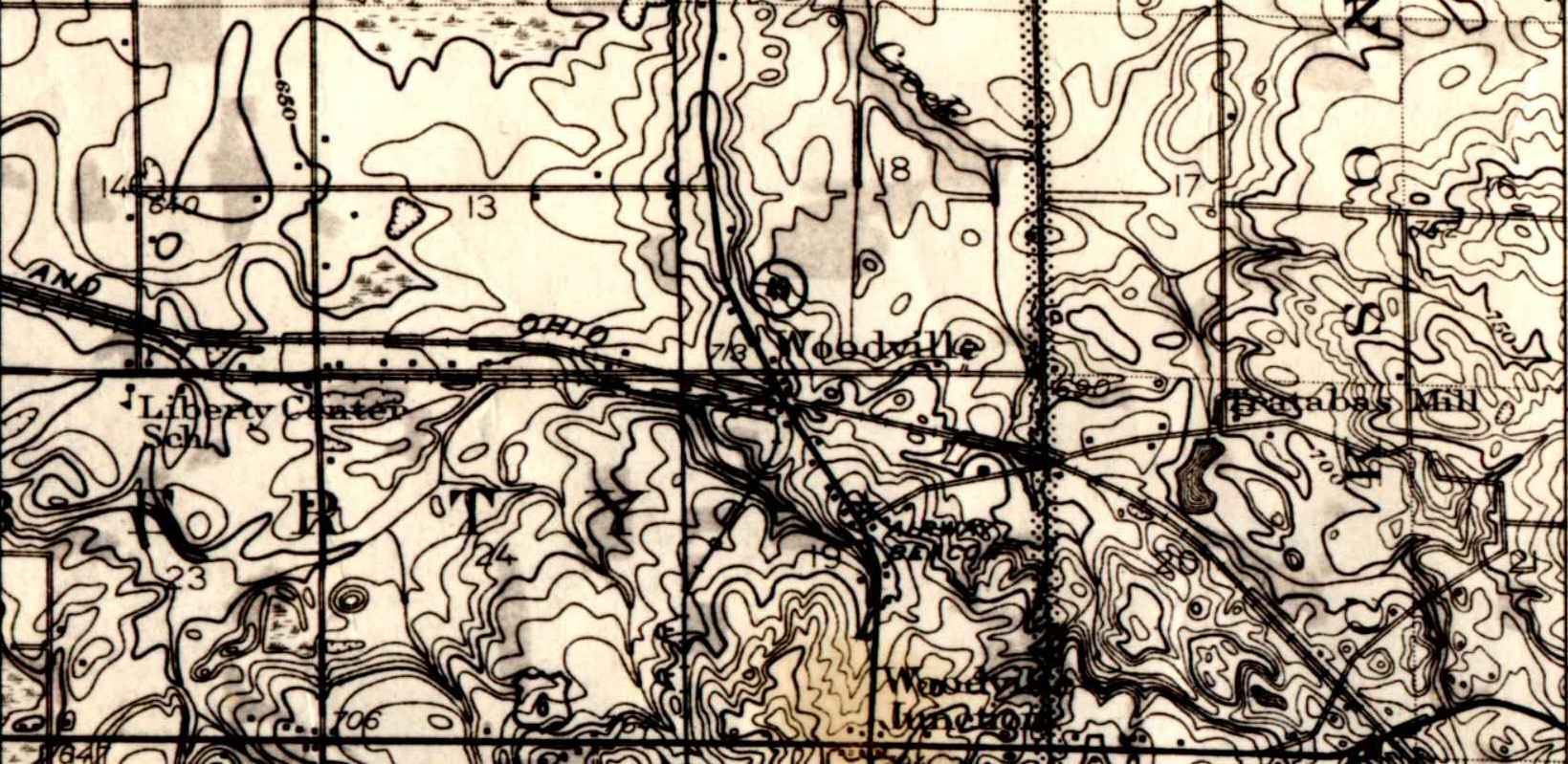 ---
Markings added to show where the lines once ran or were intended. Yes, I realize that these are very hard to see. 'Better versions later. :)





oops, where'd I put those Westville & LaPorte West topos?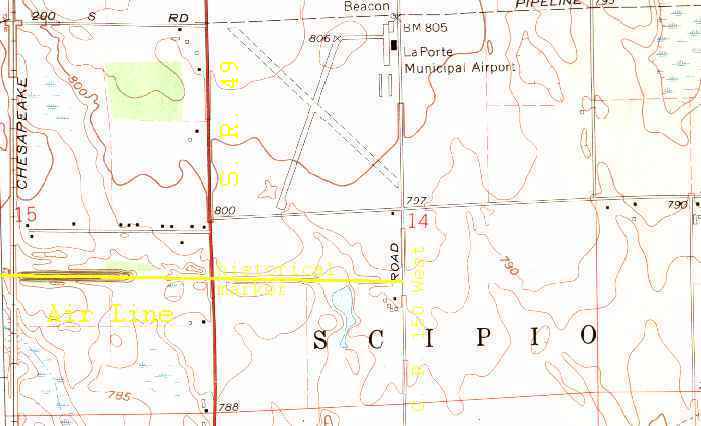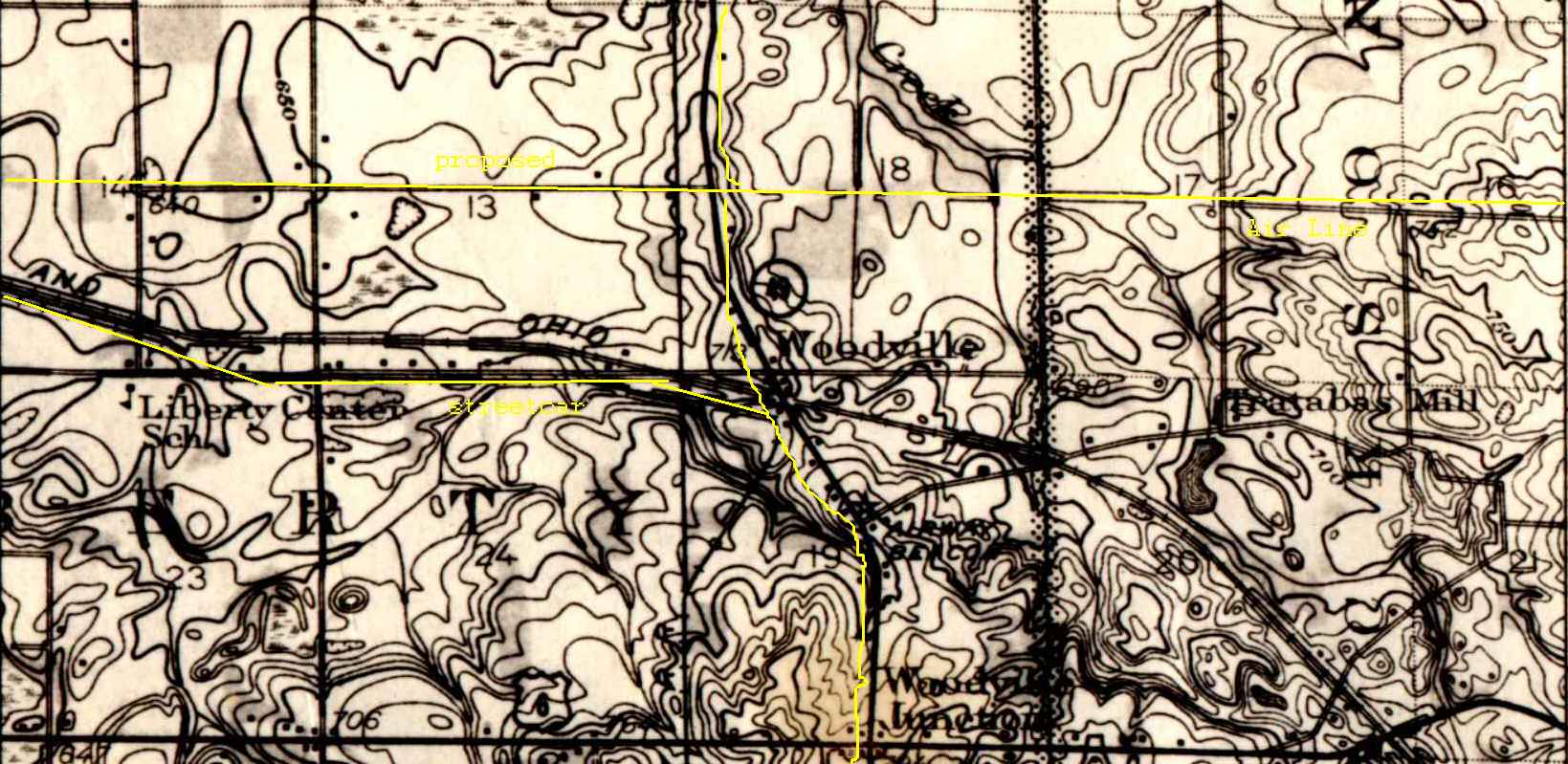 ---
And here are a few exerpts from reprints of Ogle's 1921 LaPorte County atlas and their 1921 Porter County atlas. I don't have the answer handy as to whether South LaPorte was platted yet or not when the streetcar from LaPorte to Woodville (and beyond) existed. The original atlas was in color, while the reprint was in black & white, which is why the outer edges of the village's map are obliterated. Maybe I'll stop by the county building, one of these days, for a better plat. The Air Line's easement doesn't show up on any of the LaPorte County township maps.


A portion of Porter County's Jackson Township. No obvious trace of the Air Line is featured but it ran across the middle of that swath of sections.


We didn't tour beyond Woodville but here are the other streetcar lines. From downtown Chesterton (along the street,) in Westchester Township . . .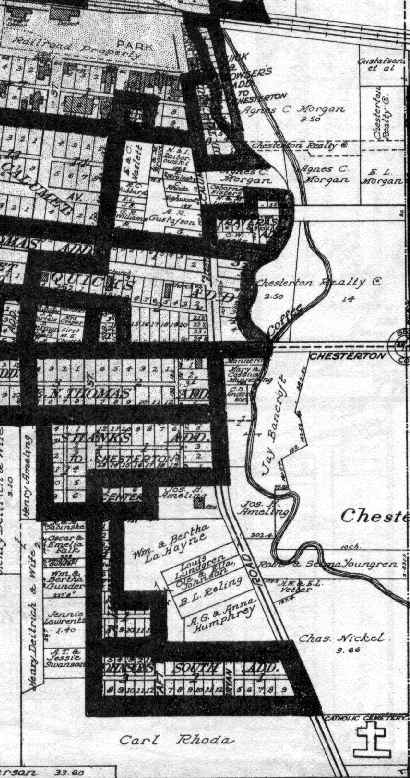 . . . the streetcar ran south through Liberty Township . . .


. . . around Flint Lake, through Center Township, to downtown Valparaiso (along the street.)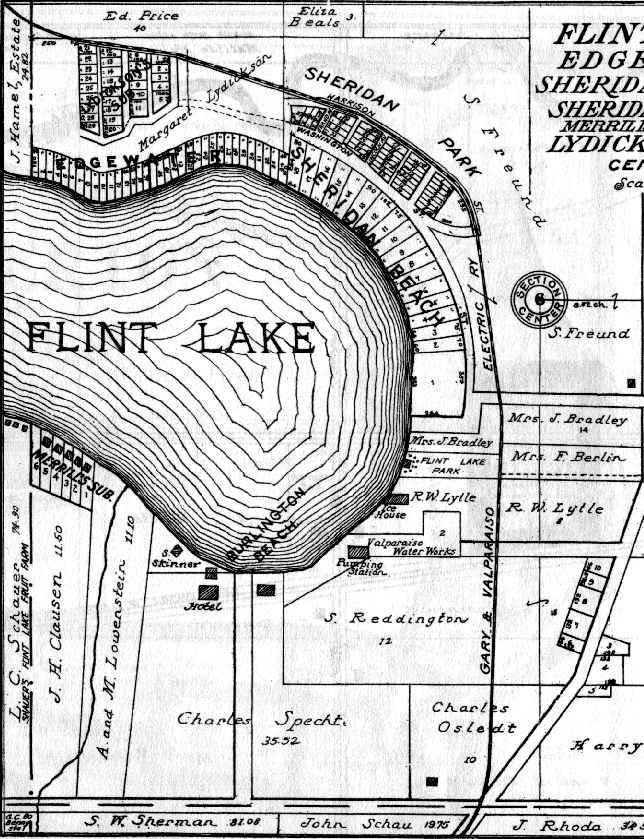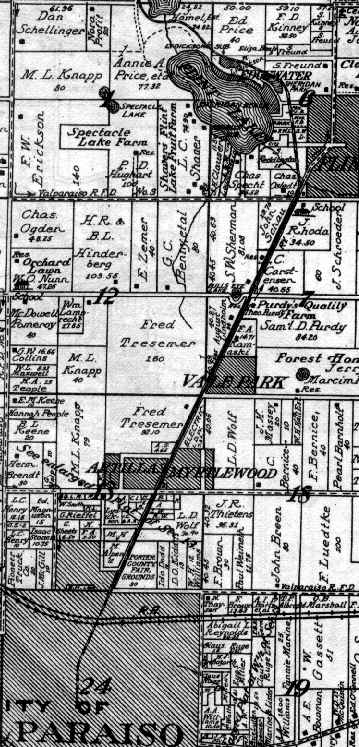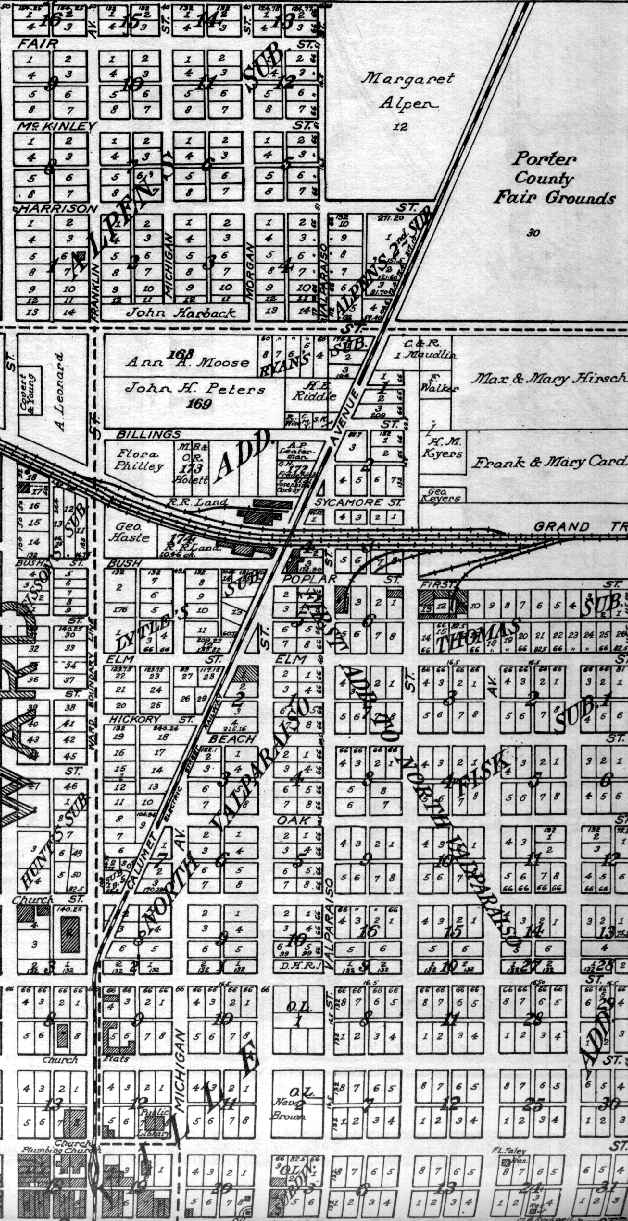 ---
Some subdivision plats showing portions of the streetcar line running south towards Valparaiso:
east of Deep Lake -- Hanrahan's


Northwood Park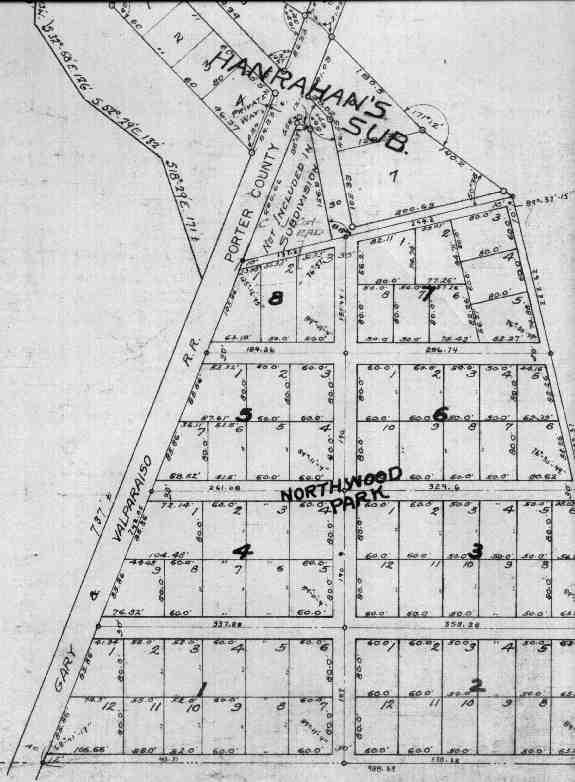 Roble Woods & Lake View Park -- west of Long Lake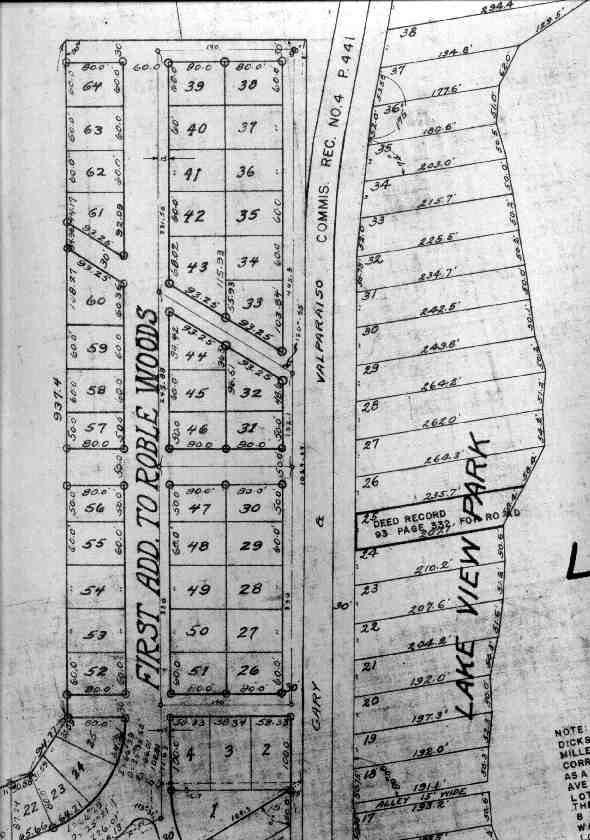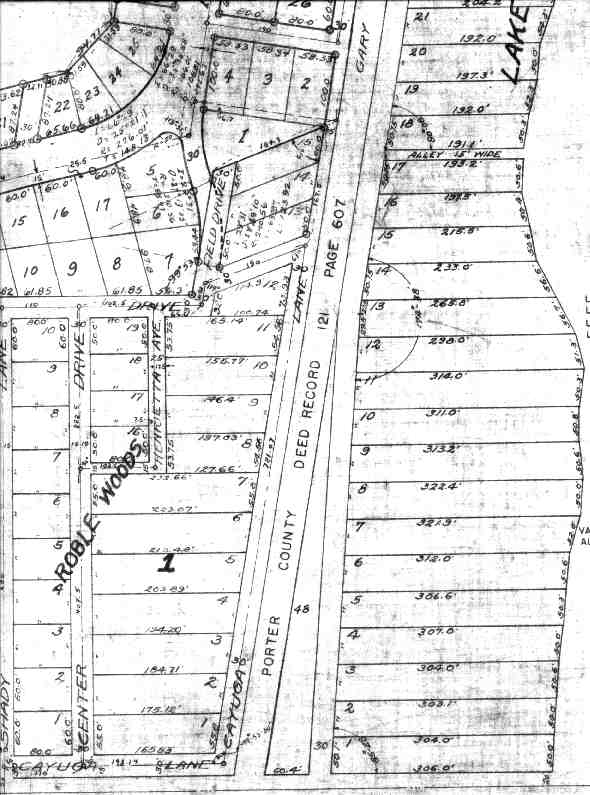 northeast of Loomis Lake -- Hillcrest Park -- southwest of Long Lake, northwest of Flint Lake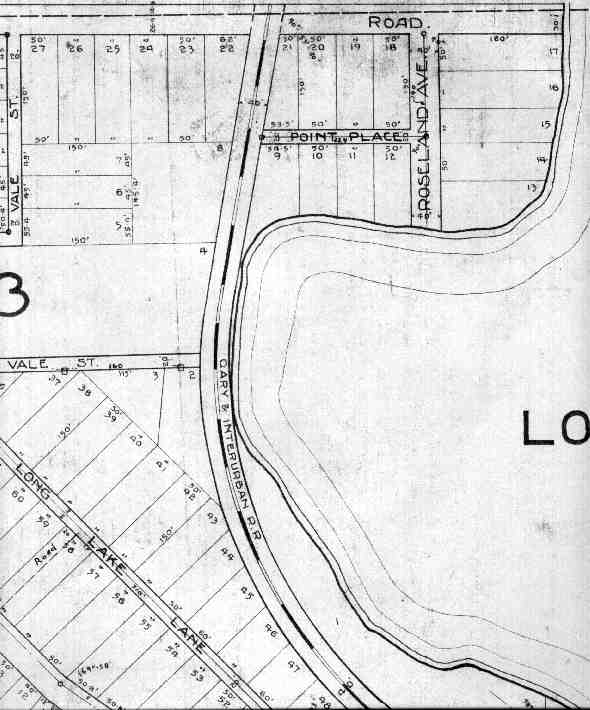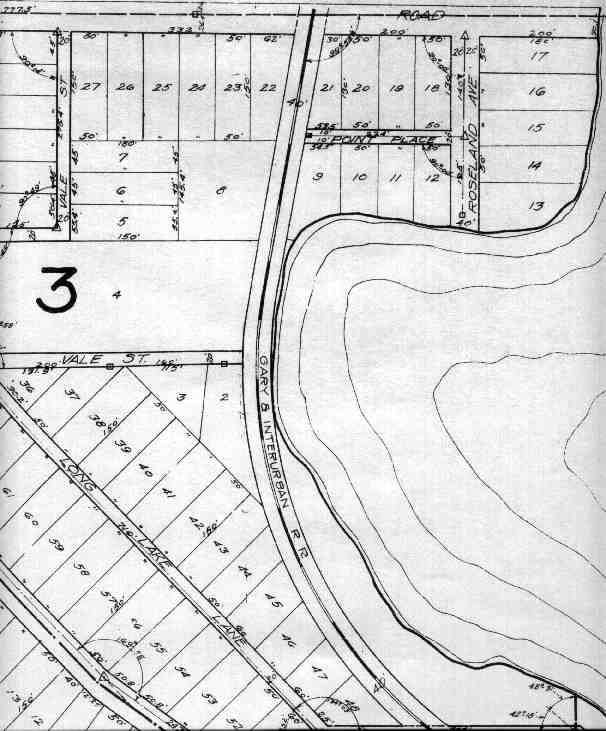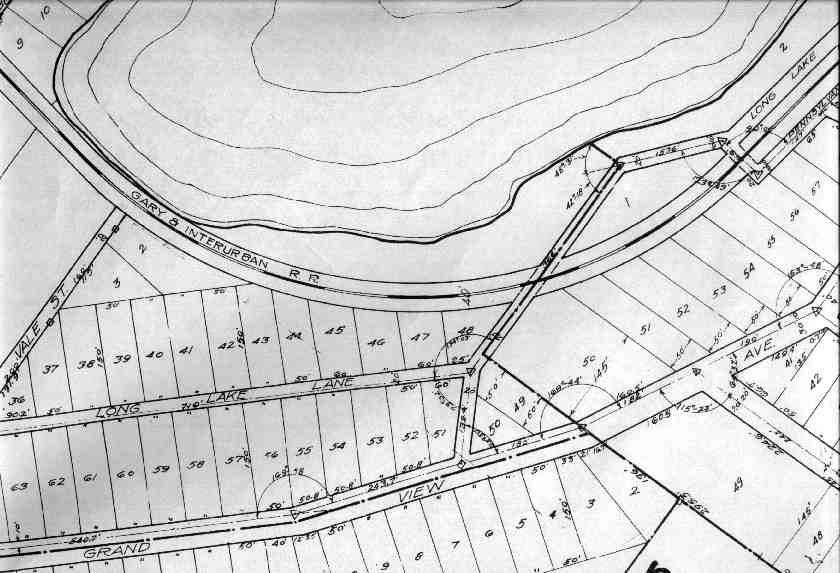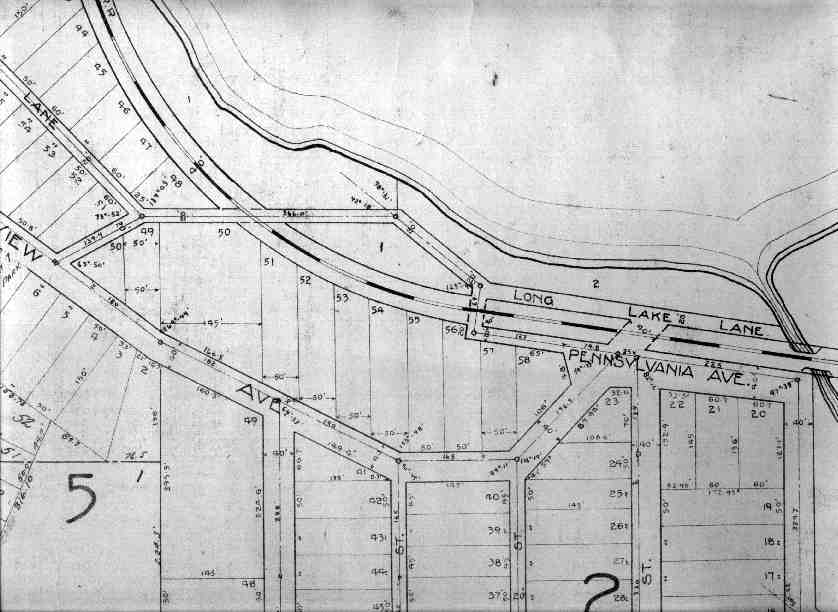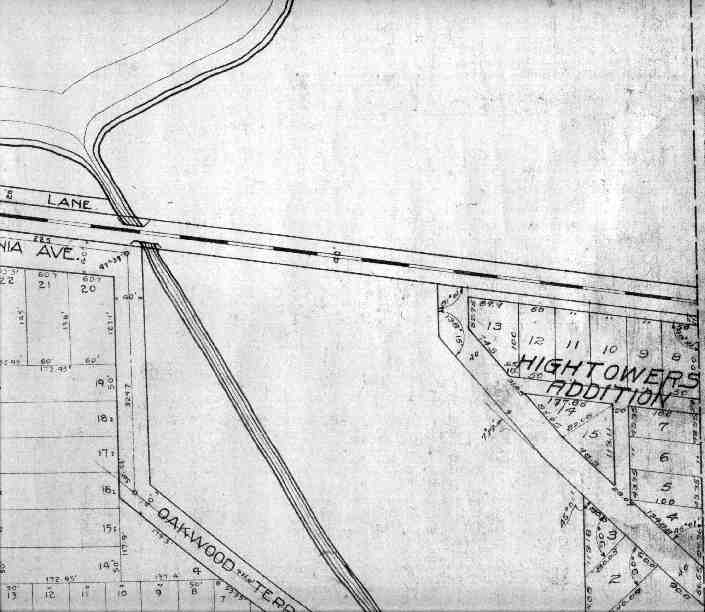 Shady Oak & Lydickson's 1st Adn. to Edgewater -- north of Flint Lake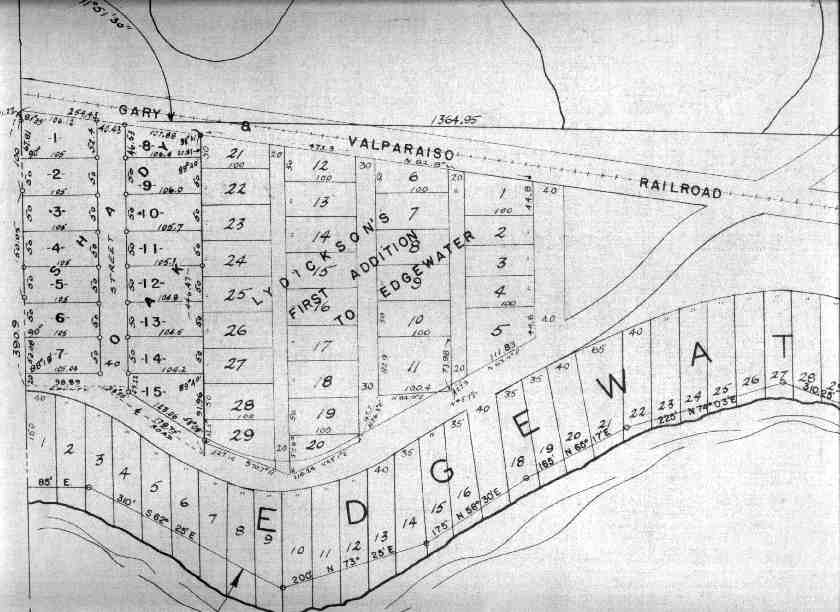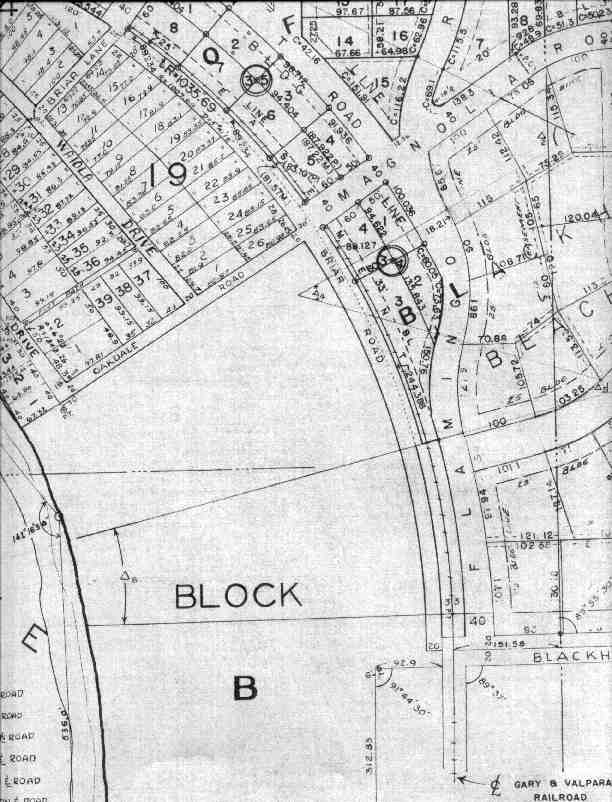 northeast of Flint Lake -- Blackhawk Beach
---
The streetcar to Gary basically followed the proposed Air Line route, across Liberty Township . . .


. . . and Portage Township, past Garyton (note the spur into the cemetery) and through Cooley's Second Addition to East Gary (which today is part of the city of Portage rather than of Lake Station.) As narrow as the right-of-way was, it's been replaced by a street and an adjacent string of home lots.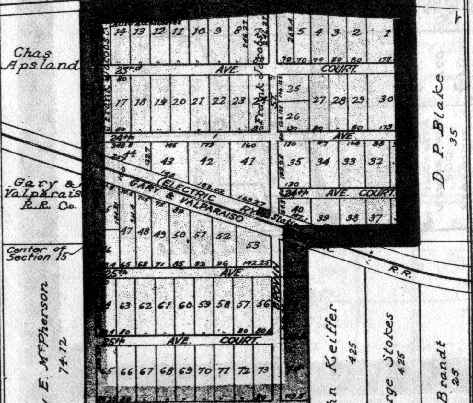 ---
Gary Railways Company right-of-way maps from a large 1926 platbook covering Gary to Valparaiso. Same maps side-by-side, scrolled horizontally rather than vertically. This page is at http://www.calumet.tripod.com/air-line/maps.html.
Created 17th March, 2005; last revised 16th March, 2006.